Technical Writer Resume Sample | Monster.com – Monster Jobs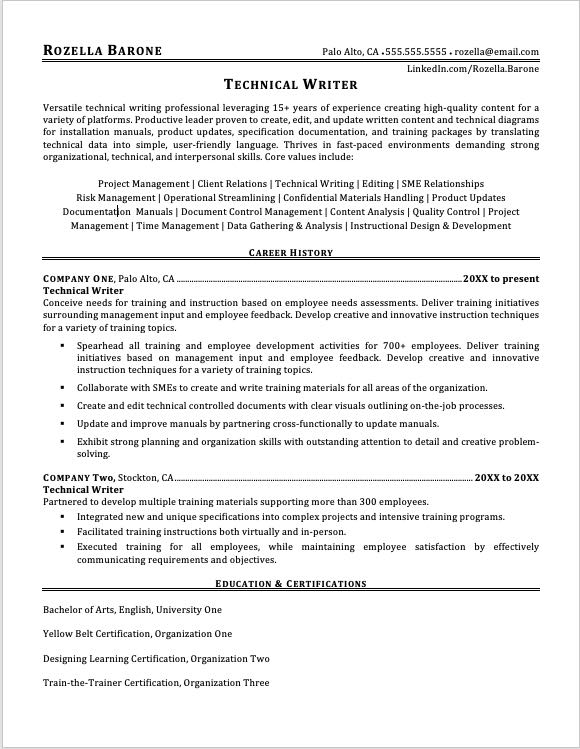 Use your skills with words and numbers to build a better resume.
Your technical writing skills enable you to translate scientific, medical, or mechanical information into easily understandable language. But when it comes to your technical writer resume, do you know how to turn your wealth of information and experience into an interview invitation? Monster has some advice for how to use resume writing best practices to your advantage.
Your resume serves two purposes: As a writer, your application is partially a writing sample that shows employers how you communicate. But, your resume also needs to demonstrate to employers that you're an expert in your field. To that end, provide a brief summary of your accomplishments and expertise in a short paragraph at the top of your resume. Then, add a list of all your skills to give employers a more complete picture of your knowledge base.
You also know how important it is to make instructional materials easy to read. The same principle applies to resumes. A technical writer resume that has enough white space is much easier to read than one jammed full of information from margin to margin. Fonts, underlines, and all caps are designed to be attention-getting. But when used in excess, they detract from your resume and make it hard to read.
Technical Writer Resume
Rozella Barone
Palo Alto, CA ● 555.555.5555 ● [email protected] | LinkedIn.com/Rozella.Barone
---
---
Technical Writer
Versatile technical writing professional leveraging 15+ years of experience creating high-quality content for a variety of platforms. Productive leader proven to create, edit, and update written content and technical diagrams for installation manuals, product updates, specification documentation, and training packages by translating technical data into simple, user-friendly language. Thrives in fast-paced environments demanding strong organizational, technical, and interpersonal skills. Core values include:
Project Management | Client Relations | Technical Writing | Editing | SME Relationships
Risk Management | Operational Streamlining | Confidential Materials Handling | Product Updates Documentation Manuals
Document Control Management | Content Analysis | Quality Control | Project Management
Time Management | Data Gathering & Analysis | Instructional Design & Development
Career History
---
---
Company One, Palo Alto, CA…………………………………………………………………………………………………………………….. 20XX to Present
Technical Writer
Conceive needs for training and instruction based on employee needs assessments. Deliver training initiatives surrounding management input and employee feedback. Develop creative and innovative instruction techniques for a variety of training topics.
Spearhead all training and employee development activities for 700+ employees. Deliver training initiatives based on management input and employee feedback. Develop creative and innovative instruction techniques for a variety of training topics.
Collaborate with SMEs to create and write training materials for all areas of the organization.
Create and edit technical controlled documents with clear visuals outlining on-the-job processes.
Update and improve manuals by partnering cross-functionally to update manuals.
Exhibit strong planning and organization skills with outstanding attention to detail and creative problem-solving.
Company Two, Stockton, CA…………………………………………………………………………………………………………………………… 20XX to 20XX
Technical Writer
Partnered to develop multiple training materials supporting more than 300 employees.
Integrated new and unique specifications into complex projects and intensive training programs.
Facilitated training instructions both virtually and in-person.
Executed training for all employees, while maintaining employee satisfaction by effectively communicating requirements and objectives.
Education & Certifications
---
---
Bachelor of Arts, English, University One
Yellow Belt Certification, Organization One
Designing Learning Certification, Organization Two
Train-the-Trainer Certification, Organization Three
Once you're ready to write your own resume, download our technical writer resume sample here.
There's good news on the job front for technical writers. The Bureau of Labor Statistics is projecting a 12% growth in technical writing jobs over the next 10 years as more scientific and technical products are developed.
Monster has found the median income for a technical writer is $33.12 per hour, which translates to an annual salary of $68,889.60. Depending on your experience and location, that salary can be as high as $89,000. If you want to get a better idea of what a technical writer can make in your city, check out Monster's Salary Tool.
Some areas have a greater demand for technical writers than others. The top five locations for technical writing jobs are:
You can also take a look at all technical writer jobs on Monster to see what's available across the U.S.
Monster Can Help Write the Next Chapter in Your Career
Although you spend your day writing, you might be at a loss for words when it comes to creating your technical writer resume. Relax, put the pen down, and let Monster help. A professional resume writer from Monster Resume Services will sharpen their pencil to put our resume best practices to work for you and make sure your job search story has a happy ending.