Starbucks Resume Sample | Monster.com – Monster Jobs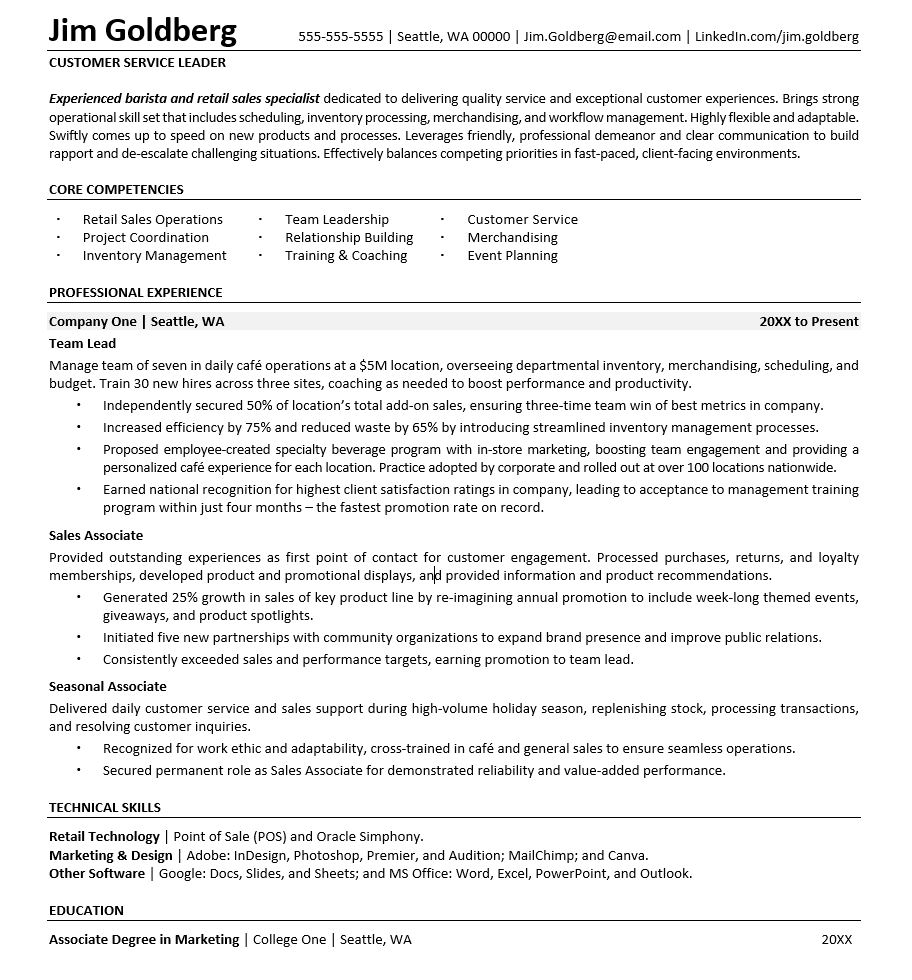 Prove your value to employers with Monster's easy-to-use resume example.
Starbucks customers are famous for their very specific orders. And hiring managers can be the same way. Starbucks recruiters aren't just looking for anyone to join their staff—they're searching for their proverbial venti, half-caff, no foam, oat milk cinnamon dolce latte. Here are a few tips for making sure your Starbucks resume is the one hiring managers order from their very large menu of applicants.
Start by reflecting on the skills, credentials, and accomplishments that are most relevant to the job you're applying for. For example, if you're applying for a job as a barista or cashier, talk about your ability to follow directions, count money, provide outstanding customer service, and pay attention to detail. It helps to thoroughly review the job posting to get an idea of what Starbucks is looking for in its staff. Pay close attention to required and preferred skills, and mirror the keywords used in the job description in your resume.
Monster's Starbucks resume sample can show you how it's done. So, pour yourself a fresh cup and read on to learn how to whip up a resume that gets results.
Starbucks Resume
JIM GOLDBERG
555-555-5555 | Seattle, WA 00000 | [email protected] | LinkedIn.com/jim.goldberg
CUSTOMER SERVICE LEADER
Experienced barista and retail sales specialist dedicated to delivering quality service and exceptional customer experiences. Brings strong operational skill set that includes scheduling, inventory processing, merchandising, and workflow management. Highly flexible and adaptable. Swiftly comes up to speed on new products and processes. Leverages friendly, professional demeanor and clear communication to build rapport and de-escalate challenging situations. Effectively balances competing priorities in fast-paced, client-facing environments.
CORE COMPETENCIES
Retail Sales Operations | Team Leadership | Customer Service
Project Coordination | Relationship Building | Merchandising
Inventory Management | Training & Coaching | Event Planning
PROFESSIONAL EXPERIENCE
Company One | Seattle, WA | 20XX to Present
Team Lead
Manage team of seven in daily café operations at a $5M location, overseeing departmental inventory, merchandising, scheduling, and budget. Train 30 new hires across three sites, coaching as needed to boost performance and productivity.
Independently secured 50% of location's total add-on sales, ensuring three-time team win of best metrics in company.
Increased efficiency by 75% and reduced waste by 65% by introducing streamlined inventory management processes.
Proposed employee-created specialty beverage program with in-store marketing, boosting team engagement and providing a personalized café experience for each location. Practice adopted by corporate and rolled out at over 100 locations nationwide.
Earned national recognition for highest client satisfaction ratings in company, leading to acceptance to management training program within just four months – the fastest promotion rate on record.
Sales Associate
Provided outstanding experiences as first point of contact for customer engagement. Processed purchases, returns, and loyalty memberships, developed product and promotional displays, and provided information and product recommendations.
Generated 25% growth in sales of key product line by re-imagining annual promotion to include week-long themed events, giveaways, and product spotlights.
Initiated five new partnerships with community organizations to expand brand presence and improve public relations.
Consistently exceeded sales and performance targets, earning promotion to team lead.
Seasonal Associate
Delivered daily customer service and sales support during high-volume holiday season, replenishing stock, processing transactions, and resolving customer inquiries.
Recognized for work ethic and adaptability, cross-trained in café and general sales to ensure seamless operations.
Secured permanent role as Sales Associate for demonstrated reliability and value-added performance.
TECHNICAL SKILLS
Retail Technology | Point of Sale (POS) and Oracle Simphony.
Marketing & Design | Adobe: InDesign, Photoshop, Premier, and Audition; MailChimp; and Canva.
Other Software | Google: Docs, Slides, and Sheets; and MS Office: Word, Excel, PowerPoint, and Outlook.
EDUCATION
Associate Degree in Marketing | College One | Seattle, WA | 20XX
You can also download this Starbucks resume template in Word.
Are you wondering how much Starbucks pays? The coffeehouse giant hires employees for a variety of positions that pay differently. In general, barista jobs across the U.S. pay anywhere from $9.89 to $14.10 per hour, plus tips. Management jobs, such as those in customer service, pay a median salary of $49,840 per year.
Want to know how much your coffee shop job might pay in your area? Look it up on Monster's Salary Calculator.
Then, check out barista jobs across the country and in these high-demand metro areas:
See all Starbucks jobs on Monster right now.
Get Your Starbucks Resume Brewed to Perfection
You've mastered pulling an espresso shot, but capturing your skills, experience, and personality on a resume may seem a little more daunting than frothing milk. No problem—Monster is here to help. Our resume experts can save you the time and effort of brewing up a quality Starbucks resume. A certified resume writer will serve up the perfect blend of your skills and experience and finish with our own kind of latte art—a sprinkle of targeted keywords that will help your resume pass any automated screening software.