Respiratory Therapist Resume Sample – Monster Jobs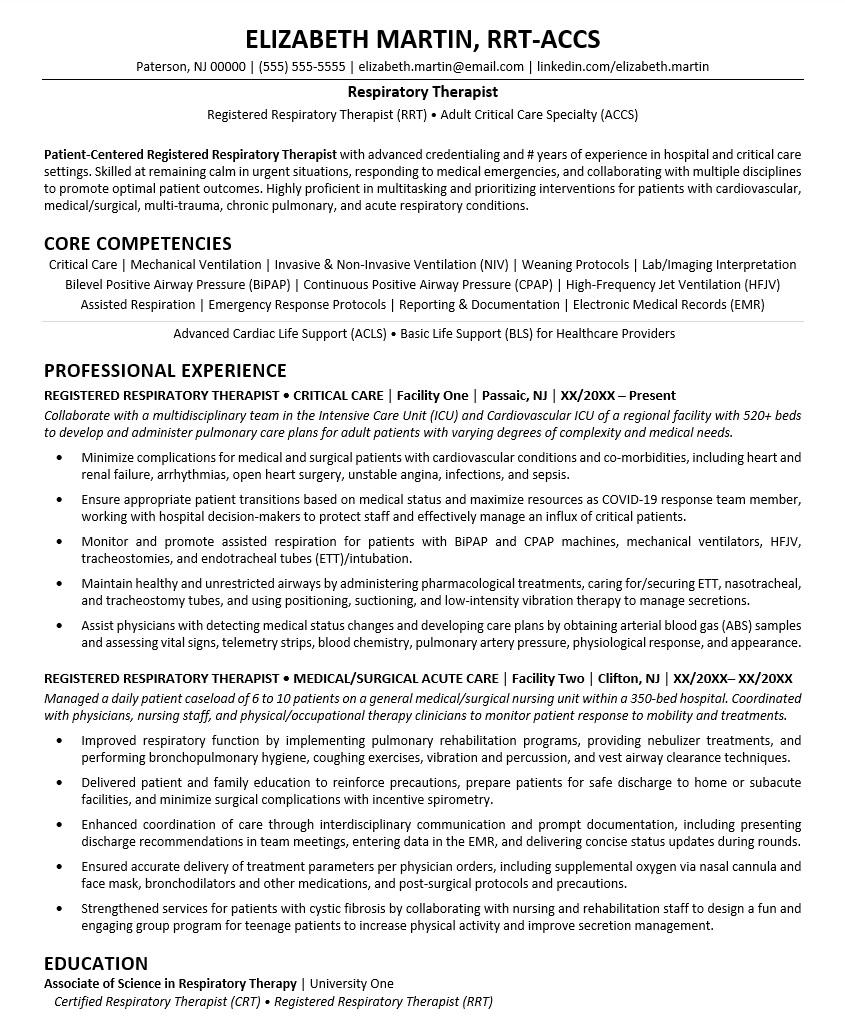 Turn your career accomplishments into a winning resume.
With so many respiratory therapy specialties to choose from, your career can take all kinds of twists and turns. You might be looking for a job as a respiratory therapist certified in pediatric (NPS) or sleep disorders (SDS). Maybe you'd like to find a unique opportunity like travel or flight respiratory therapy. Whatever path you're on, you'll need a respiratory therapist resume that accurately highlights your education and experience.
So, what should a respiratory therapist put on a resume?
A strong respiratory therapist resume objective or professional summary is an effective way to open your resume because it allows you to be specific about your education, skills, experience, and goals. This one paragraph can set you apart from other candidates who may not have the right skill set. It's also important to use clean formatting when creating your respiratory therapist resume. Keep it simple by sticking to one or two fonts, and be prudent with bold, italic, and underlined words.
Looking for free respiratory therapist resume templates? You're in luck—we have a sample below that you can adapt for the job you're applying for, whether you're looking for an ICE respiratory therapist resume, a pediatric respiratory therapist resume, or a sample for any other sub-specialty.
Respiratory Therapist Resume
ELIZABETH MARTIN, RRT-ACCS
Paterson, NJ 00000 | (555) 555-5555 | [email protected] | linkedin.com/elizabeth.martin
---
Respiratory Therapist
Registered Respiratory Therapist (RRT) • Adult Critical Care Specialty (ACCS)
Patient-Centered Registered Respiratory Therapist with advanced credentialing and # years of experience in hospital and critical care settings. Skilled at remaining calm in urgent situations, responding to medical emergencies, and collaborating with multiple disciplines to promote optimal patient outcomes. Highly proficient in multitasking and prioritizing interventions for patients with cardiovascular, medical/surgical, multi-trauma, chronic pulmonary, and acute respiratory conditions.
CORE COMPETENCIES
Critical Care | Mechanical Ventilation | Invasive & Non-Invasive Ventilation (NIV) | Weaning Protocols | Lab/Imaging Interpretation
Bilevel Positive Airway Pressure (BiPAP) | Continuous Positive Airway Pressure (CPAP) | High-Frequency Jet Ventilation (HFJV)
Assisted Respiration | Emergency Response Protocols | Reporting & Documentation | Electronic Medical Records (EMR)
Advanced Cardiac Life Support (ACLS) • Basic Life Support (BLS) for Healthcare Providers
PROFESSIONAL EXPERIENCE
REGISTERED RESPIRATORY THERAPIST • CRITICAL CARE | Facility One | Passaic, NJ | XX/20XX – Present
Collaborate with a multidisciplinary team in the Intensive Care Unit (ICU) and Cardiovascular ICU of a regional facility with 520+ beds to develop and administer pulmonary care plans for adult patients with varying degrees of complexity and medical needs.
Minimize complications for medical and surgical patients with cardiovascular conditions and co-morbidities, including heart and renal failure, arrhythmias, open heart surgery, unstable angina, infections, and sepsis.
Ensure appropriate patient transitions based on medical status and maximize resources as COVID-19 response team member, working with hospital decision-makers to protect staff and effectively manage an influx of critical patients.
Monitor and promote assisted respiration for patients with BiPAP and CPAP machines, mechanical ventilators, HFJV, tracheostomies, and endotracheal tubes (ETT)/intubation.
Maintain healthy and unrestricted airways by administering pharmacological treatments, caring for/securing ETT, nasotracheal, and tracheostomy tubes, and using positioning, suctioning, and low-intensity vibration therapy to manage secretions.
Assist physicians with detecting medical status changes and developing care plans by obtaining arterial blood gas (ABS) samples and assessing vital signs, telemetry strips, blood chemistry, pulmonary artery pressure, physiological response, and appearance.
REGISTERED RESPIRATORY THERAPIST • MEDICAL/SURGICAL ACUTE CARE | Facility Two | Clifton, NJ | XX/20XX – XX/20XX
Managed a daily patient caseload of 6 to 10 patients on a general medical/surgical nursing unit within a 350-bed hospital. Coordinated with physicians, nursing staff, and physical/occupational therapy clinicians to monitor patient response to mobility and treatments.
Improved respiratory function by implementing pulmonary rehabilitation programs, providing nebulizer treatments, and performing bronchopulmonary hygiene, coughing exercises, vibration and percussion, and vest airway clearance techniques.
Delivered patient and family education to reinforce precautions, prepare patients for safe discharge to home or subacute facilities, and minimize surgical complications with incentive spirometry.
Enhanced coordination of care through interdisciplinary communication and prompt documentation, including presenting discharge recommendations in team meetings, entering data in the EMR, and delivering concise status updates during rounds.
Ensured accurate delivery of treatment parameters per physician orders, including supplemental oxygen via nasal cannula and face mask, bronchodilators and other medications, and post-surgical protocols and precautions.
Strengthened services for patients with cystic fibrosis by collaborating with nursing and rehabilitation staff to design a fun and engaging group program for teenage patients to increase physical activity and improve secretion management.
EDUCATION
Associate of Science in Respiratory Therapy | University One
Certified Respiratory Therapist (CRT) • Registered Respiratory Therapist (RRT)
Want a respiratory therapist resume PDF? You can download this respiratory therapist resume template in Word and save the file as a PDF.
It's an ideal time to pursue respiratory therapist jobs. Data from the Bureau of Labor Statistics shows respiratory therapy jobs are projected to grow by 23% over the next 10 years.
Monster research finds the median salary for a respiratory therapist is $26.97. But you can look up what you can expect to get paid in your location by using Monster's Salary Tool. Plug in your title and city to see the median salary.
You'll find Monster has job listings for respiratory therapists all over the U.S. The areas where respiratory therapists are in the highest demand are:
You can also take a look at all respiratory therapist jobs on Monster to see what's on offer across the country.
Your Ideal Respiratory Therapist Resume Is Right Around the Corner
We hope our tips will help you take a turn at creating a winning resume. If you'd like help, Monster Resume Services is standing by. You'll work with a certified resume writer who understands the medical field and will take your work experience, certifications, and education and transform them into a respiratory therapist resume that's sure to turn heads.