Product Owner Resume | Monster.com – Monster Jobs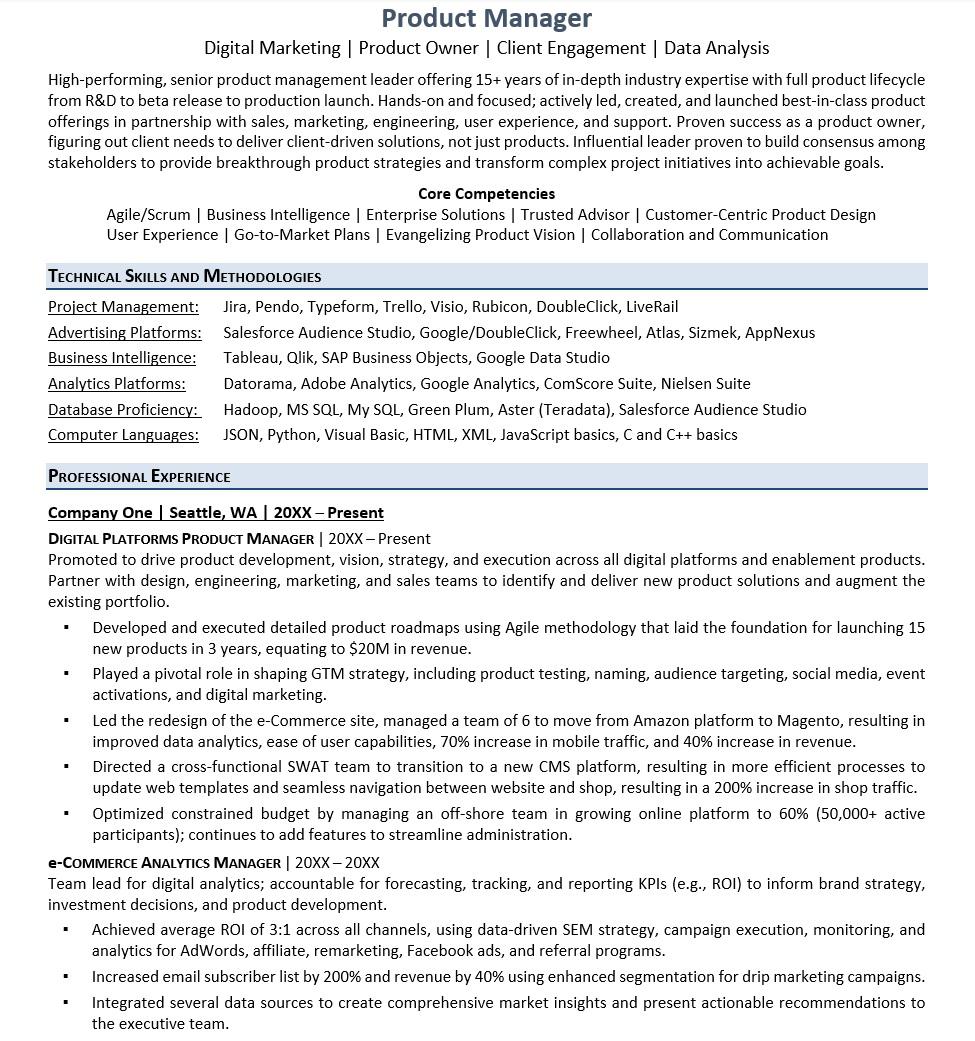 Create your roadmap to career success, starting with Monster's resume template.
From financial institutions to tech giants, companies hire product owners to develop and oversee the creation of products and services. But companies aren't looking for just anyone to fill this crucial role. Want to be considered for the job? Make sure you put the same energy into your product owner resume that you do into leading Scrum teams and reaching your professional goals.
No matter how much experience you have under your belt, writing a product owner resume isn't always a cakewalk. The resume experts at Monster understand the challenges of creating your first draft.
Here's a tip that can help you get started: quantify your accomplishments with numbers and percentages. Don't just tell employers that you're good at your job; show them why you're the right candidate with the results of projects you took part in.
For example, consider answering these questions when creating your product owner resume:
How many products did you work on during your time at your last company?
How much revenue did you bring in?
How many people did you manage?
Was there an increase to eCommerce traffic? If so, what was the percentage increase?
See how we included these numbers in the product owner resume example below.
Product Owner Resume
Wanda Sims
Seattle, WA 00000 | 555.555.5555 | [email protected] | https://www.linkedin.com/wanda.sims/
Product Manager
Digital Marketing | Product Owner | Client Engagement | Data Analysis
High-performing, senior product management leader offering 15+ years of in-depth industry expertise with full product lifecycle from R&D to beta release to production launch. Hands-on and focused; actively led, created, and launched best-in-class product offerings in partnership with sales, marketing, engineering, user experience, and support. Proven success as a product owner, figuring out client needs to deliver client-driven solutions, not just products. Influential leader proven to build consensus among stakeholders to provide breakthrough product strategies and transform complex project initiatives into achievable goals.
Core Competencies
Agile/Scrum | Business Intelligence | Enterprise Solutions | Trusted Advisor | Customer-Centric Product Design
User Experience | Go-to-Market Plans | Evangelizing Product Vision | Collaboration and Communication
Technical Skills and Methodologies
Project Management: Jira, Pendo, Typeform, Trello, Visio, Rubicon, DoubleClick, LiveRail
Advertising Platforms: Salesforce Audience Studio, Google/DoubleClick, Freewheel, Atlas, Sizmek, AppNexus
Business Intelligence: Tableau, Qlik, SAP Business Objects, Google Data Studio
Analytics Platforms: Datorama, Adobe Analytics, Google Analytics, ComScore Suite, Nielsen Suite
Database Proficiency: Hadoop, MS SQL, My SQL, Green Plum, Aster (Teradata), Salesforce Audience Studio
Computer Languages: JSON, Python, Visual Basic, HTML, XML, JavaScript basics, C and C++ basics
Professional Experience
Company One | Seattle, WA | 20XX – Present
Digital Platforms Product Manager | 20XX – Present
Promoted to drive product development, vision, strategy, and execution across all digital platforms and enablement products. Partner with design, engineering, marketing, and sales teams to identify and deliver new product solutions and augment the existing portfolio.
Developed and executed detailed product roadmaps using Agile methodology that laid the foundation for launching 15 new products in 3 years, equating to $20M in revenue.
Played a pivotal role in shaping GTM strategy, including product testing, naming, audience targeting, social media, event activations, and digital marketing.
Led the redesign of the e-Commerce site, managed a team of 6 to move from Amazon platform to Magento, resulting in improved data analytics, ease of user capabilities, 70% increase in mobile traffic, and 40% increase in revenue.
Directed a cross-functional SWAT team to transition to a new CMS platform, resulting in more efficient processes to update web templates and seamless navigation between website and shop, resulting in a 200% increase in shop traffic.
Optimized constrained budget by managing an off-shore team in growing online platform to 60% (50,000+ active participants); continues to add features to streamline administration.
e-Commerce Analytics Manager | 20XX – 20XX
Team lead for digital analytics; accountable for forecasting, tracking, and reporting KPIs (e.g., ROI) to inform brand strategy, investment decisions, and product development.
Achieved average ROI of 3:1 across all channels, using data-driven SEM strategy, campaign execution, monitoring, and analytics for AdWords, affiliate, remarketing, Facebook ads, and referral programs.
Increased email subscriber list by 200% and revenue by 40% using enhanced segmentation for drip marketing campaigns.
Integrated several data sources to create comprehensive market insights and present actionable recommendations to the executive team.
Company Two | Seattle, WA | 20XX – 20XX
CEO & Product Owner
Founded, self-funded, and built company focused on combining food and technology from ground zero to $100K annually. Conceptualized discovery engine, developed business plans, identified target markets, created the prototype and working product, then executed the GTM launch plan. Recruited technical co-founders and grew the company to 6 people.
Built feature-rich Android applications; designed web and mobile wireframes and identified feature set prioritization.
Successfully partnered with 18 restaurants to cross-promote. Developed prospective relationships with 50+ restaurants.
Set up brand channels on social media; presented at several start-up events and managed media outreach resulting in articles on CNET, Business Insider, and The Next Web.
Company Three | Seattle, WA | 20XX – 20XX
Mobile Product Specialist | 20XX – 20XX
Reporting to Senior Account Executive, spearheaded business development efforts for a high-profile portfolio of clients.
Liaised between sales and product teams to grow the mobile app product line from 15 to 200+ active mobile publishers.
Pioneered an automated process to identify and evaluate iPhone and Android app leads, resulting in 1000+ new leads distributed to respective global teams.
Assisted the legal and product teams with the high-profile AdMob acquisition; developed criteria to determine publisher placement within various tiers to avoid overlap and duplication; results of efforts showed seamless transition on publisher facing side.
Partner Development | 20XX – 20XX
Shattered targets, offering needs-based monetization solutions on desktop and mobile applications; designed templates and authored copy for promotional materials for potential clients.
Ranked #1 in sales with highest closed accounts and revenue; generated upwards of $17M in new business revenue from 300+ publishers.
Redesigned internal sales tool; implemented 50+ features that reduced lead-to-close time 20%; achieved buy-in and adoption by 20 global team members; conducted international roadshow and training in Dublin, Tokyo, and Beijing.
Account Manager | 20XX – 20XX
Devised sales strategies to propel revenue growth across 200+ well-known brand publishers; identified high-value publishers and organized them under a private forum allowing for sharing of best practices.
Selected for cross-functional team that scaled digital product resulting in 46% market growth and a 60% reduction in customer support and generated valuable feedback for product teams.
Spearheaded a YouTube competition to promote publisher success stories; conceptualized and worked with cross-functional team to execute through various marketing channels; competition resulted in 6 global case studies.
Education & Certification
M.S. in Marketing | University One | Seattle, WA
B.S. in Computer Science | University Two | Seattle, WA
Google Analytics e-Commerce Certified
Certified Scrum Master
Need to save some time? You can download this product owner resume template in Word.
The median salary for product managers is $96,818 per year. However, pay can range from $71,287 to $116,694, depending on your location and your experience level. Monster's Salary Estimator can give you a clear view of how much product managers typically earn in your area.
Once you've created your product owner resume, start connecting with recruiters through Monster. Some of the best places to look for product manager jobs are these five cities where demand is high:
Maximize the Value of Your Product Owner Resume
As a product owner, you're an expert at streamlining Agile team projects. One step you can take to streamline your career success? Contact the team at Monster's Resume Writing Service. We'll match you with a certified resume writer familiar with the ins and outs of product management. They can create a product owner resume tailored to your work history and career goals. Plus, we'll enhance your resume with action verbs, customized keywords, and a compelling career summary that will set you apart from other qualified candidates.