Nurse Practitioner Resume | Monster.com – Monster Jobs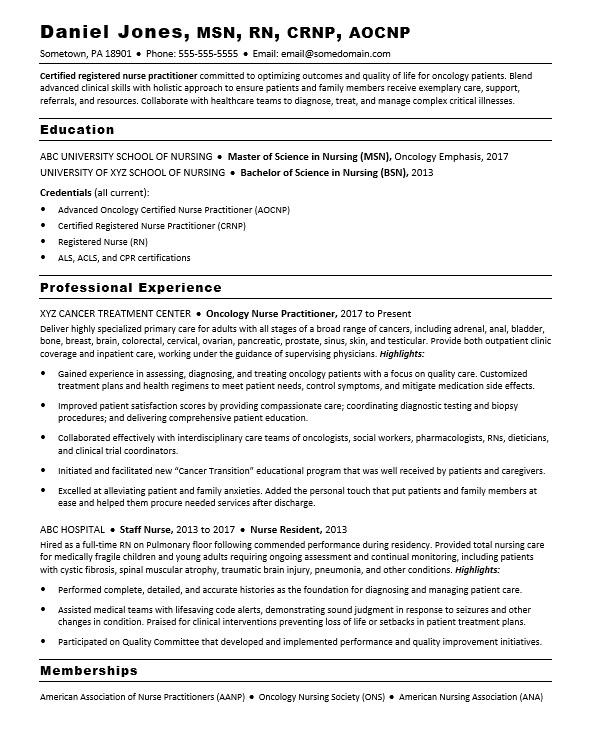 A strong, professional nurse practitioner resume is part of the prescription for getting hired.
The need for nurses is off the charts (excuse the pun), so you can afford to be choosy in your job search. That said, a strong, professional nurse practitioner resume is part of the prescription for getting hired. If you've got your eyes on the top NP jobs in your area, a comprehensive resume can help you stand out. For writing tips, view this sample resume for a nurse practitioner that resume expert Kim Isaacs created below.
The best nurse practitioner resume examples are not only full of impressive accolades and education experience, but are also cleanly and clearly formatted. You'll see how our nurse practitioner resume makes ample use of bullet points and bold font to make all this information easy to scan. Hiring managers are super-busy, so if they can glance at your resume and quickly see your credentials, the better chance you have of them taking a dedicated look at your application.
Bonus tip: Make sure your career summary—those few sentences below your contact information—calls out what makes you a fantastic candidate. You can go into more detail about your skills and responsibilities in the subsequent sections.
Nurse Practitioner Resume Sample
Daniel Jones, MSN, RN, CRNP, AOCNP
Sometown, PA 18901 * Phone: 555-555-5555 * Email: [email protected]
Certified registered nurse practitioner committed to optimizing outcomes and quality of life for oncology patients. Blend advanced clinical skills with holistic approach to ensure patients and family members receive exemplary care, support, referrals, and resources. Collaborate with healthcare teams to diagnose, treat, and manage complex critical illnesses.
Education
ABC UNIVERSITY SCHOOL OF NURSING * Master of Science in Nursing (MSN), Oncology Emphasis, 20XX
UNIVERSITY OF XYZ SCHOOL OF NURSING * Bachelor of Science in Nursing (BSN), 20XX
Credentials (all current):
Advanced Oncology Certified Nurse Practitioner (AOCNP)
Certified Registered Nurse Practitioner (CRNP)
Registered Nurse (RN)
ALS, ACLS, and CPR certifications
Professional Experience
XYZ CANCER TREATMENT CENTER * Oncology Nurse Practitioner, 20XX to Present
Deliver highly specialized primary care for adults with all stages of a broad range of cancers, including adrenal, anal, bladder, bone, breast, brain, colorectal, cervical, ovarian, pancreatic, prostate, sinus, skin, and testicular. Provide both outpatient clinic coverage and inpatient care, working under the guidance of supervising physicians. Highlights:
Gained experience in assessing, diagnosing, and treating oncology patients with a focus on quality care. Customized treatment plans and health regimens to meet patient needs, control symptoms, and mitigate medication side effects.
Improved patient satisfaction scores by providing compassionate care; coordinating diagnostic testing and biopsy procedures; and delivering comprehensive patient education.
Collaborated effectively with interdisciplinary care teams of oncologists, social workers, pharmacologists, RNs, dietitians, and clinical trial coordinators.
Initiated and facilitated new "Cancer Transition" educational program that was well received by patients and caregivers.
Excelled at alleviating patient and family anxieties. Added the personal touch that put patients and family members at ease and helped them procure needed services after discharge.
ABC HOSPITAL * Staff Nurse, 20XX to 20XX * Nurse Resident, 20XX
Hired as a full-time RN on Pulmonary floor following commended performance during residency. Provided total nursing care for medically fragile children and young adults requiring ongoing assessment and continual monitoring, including patients with cystic fibrosis, spinal muscular atrophy, traumatic brain injury, pneumonia, and other conditions. Highlights:
Performed complete, detailed, and accurate histories as the foundation for diagnosing and managing patient care.
Assisted medical teams with lifesaving code alerts, demonstrating sound judgment in response to seizures and other changes in condition. Praised for clinical interventions preventing loss of life or setbacks in patient treatment plans.
Participated on Quality Committee that developed and implemented performance and quality improvement initiatives.
Memberships
American Association of Nurse Practitioners (AANP) * Oncology Nursing Society (ONS) * American Nursing Association (ANA)
To make the writing easier on yourself, download the nurse practitioner resume template (free) in Word.
According to the Bureau of Labor Statistics, the job growth for nurse practitioners is a staggering 45% over the next decade—that amounts to an additional 121,400 jobs—which is much faster than the average for all other jobs.
Monster data shows the median nurse practitioner salary is $103,495, with a range of around $68,477 to $120,910. You'll find high concentrations of employment for nurse practitioners is in the following cities:
You can find out what nurse practitioners earn in your area by searching the Monster Salary Tool. Additionally, you can search for nurse practitioner jobs on Monster.
Will Your Nurse Practitioner Resume Make the Rounds?
We know you're in high demand, and we also know you're extremely busy. Could you use some help getting your resume together? The professional writers at Monster's Resume Writing Service can make a resume for you, whether you need an entry-level or experienced nurse practitioner resume. An expert with knowledge of the healthcare industry can create a resume that features your skills and experience and can help you get the kinds of offers you're looking for. Whether you want to work in a hospital, clinic, private practice, or elsewhere, Monster can help you find a job that's the right fit.