Loan Officer Resume | Monster.com – Monster Jobs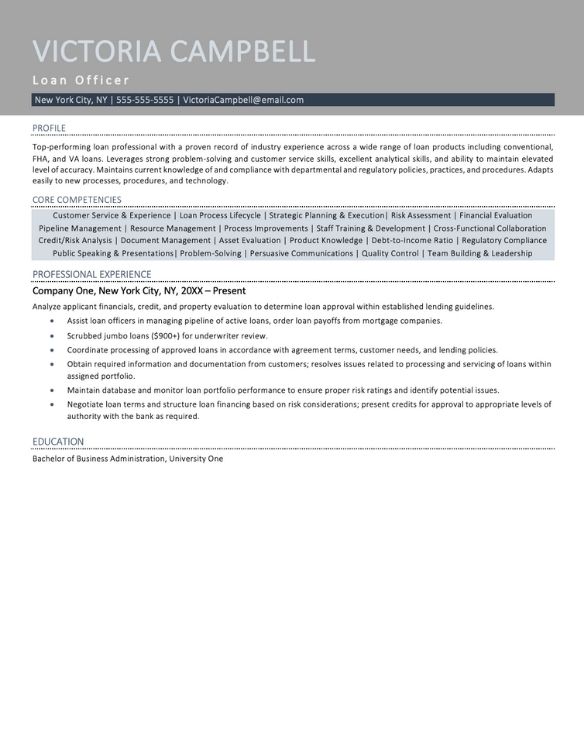 We'll help you create your loan officer resume in no time.
When you get a job as a loan officer, you become the gatekeeper between banks and customers. Displaying your skills on a loan officer resume may not be your area of expertise. However, you don't have to be a day late and a dollar short on your job-seeking journey. Monster can show you how to write and format a resume, step-by-step.
Think of your resume as a loan application. You need all the key details about your background for your candidacy to be considered by employers—after all, they don't want to take any risks when hiring new employees. The first section should contain your name, professional title, city, phone number, and email address. Next, create a brief career summary that gives employers an idea of what you've accomplished professionally. Follow that up with your core competencies list, which can include relevant skills such as loan processing, risk assessment, and financial evaluation.
The next part of your resume should include your professional background. Make a list of relevant jobs you've held, briefly describe your duties, and highlight your key accomplishments. It also helps to include numbers to quantify your achievements. For example, if you've scrubbed jumbo loans for underwriter review, be sure to mention dollar amounts. At the end of your resume, list your educational background, such as college degrees, certifications, or other credentials you've obtained.
Now that you get the gist of how to create a loan officer resume, Monster's sample below can show you how to process it.
Loan Officer Resume
Victoria Campbell
Loan Officer
New York City, NY | 555-555-5555 | [email protected]
PROFILE
Top-performing loan professional with a proven record of industry experience across a wide range of loan products including conventional, FHA, and VA loans. Leverages strong problem-solving and customer service skills, excellent analytical skills, and ability to maintain elevated level of accuracy. Maintains current knowledge of and compliance with departmental and regulatory policies, practices, and procedures. Adapts easily to new processes, procedures, and technology.
CORE COMPETENCIES
Customer Service & Experience | Loan Process Lifecycle | Strategic Planning & Execution| Risk Assessment | Financial Evaluation
Pipeline Management | Resource Management | Process Improvements | Staff Training & Development | Cross-Functional Collaboration
Credit/Risk Analysis | Document Management | Asset Evaluation | Product Knowledge | Debt-to-Income Ratio | Regulatory Compliance
Public Speaking & Presentations| Problem-Solving | Persuasive Communications | Quality Control | Team Building & Leadership
PROFESSIONAL EXPERIENCE
Company One, New York City, NY, 20XX – Present
Analyze applicant financials, credit, and property evaluation to determine loan approval within established lending guidelines.
Assist loan officers in managing pipeline of active loans, order loan payoffs from mortgage companies.
Scrubbed jumbo loans ($900+) for underwriter review.
Coordinate processing of approved loans in accordance with agreement terms, customer needs, and lending policies.
Obtain required information and documentation from customers; resolves issues related to processing and servicing of loans within assigned portfolio.
Maintain database and monitor loan portfolio performance to ensure proper risk ratings and identify potential issues.
Negotiate loan terms and structure loan financing based on risk considerations; present credits for approval to appropriate levels of authority with the bank as required.
EDUCATION
Bachelor of Business Administration, University One
When you're ready to apply to jobs, you can download this loan officer resume sample here.
According to Monster's salary data, loan officers typically earn a yearly salary between $36,379 and $89,129. It all depends on your professional background and location. You can get a general idea of the salary range in your area by searching "loan officer" and your city on Monster's Salary Tool.
Ready to apply for loan officer positions? These five U.S. metro areas offer plenty of opportunities:
But Monster also lists tons of loan officer jobs across the U.S.
Get a Second Opinion Before Authorizing Your Resume
As a loan officer, you understand the process of reviewing and authorizing loan applications better than anyone. Now, let the resume experts at Monster review and authorize the final version of your loan officer resume. An experienced resume writer with a background in banking will analyze your resume for errors, write a compelling and fully customized professional summary, and add relevant industry keywords to help your resume pass applicant tracking software. Once we've put our stamp of approval on the final version, you'll be ready to apply to any loan officer job.