Hostess Resume | Monster.com – Monster Jobs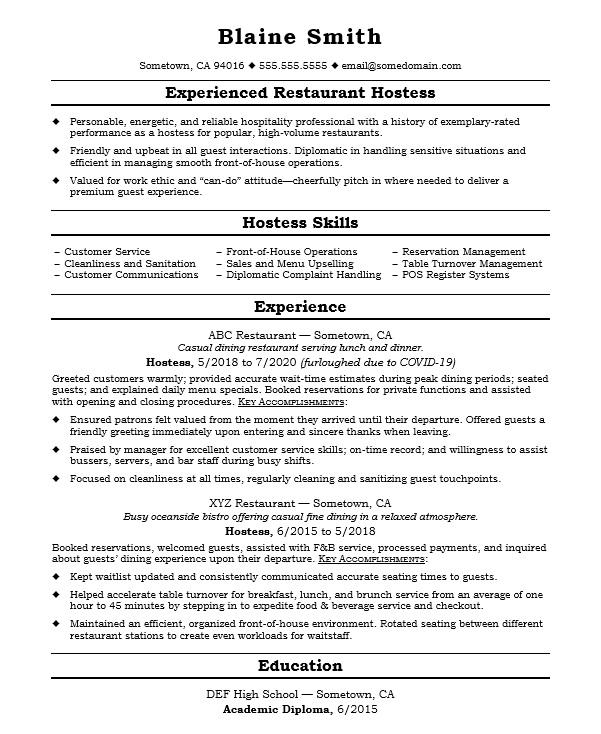 Learn how to highlight your customer service skills and experience.
Your hostess resume needs to entice fussy food industry hiring managers with the kinds of customer service skills and experience that are needed in this line of work. Whether you're looking for host or hostess jobs in a restaurant, café, or diner, you need a clean, professional resume. For writing tips, view this sample resume for a hostess that resume expert Kim Isaacs created for Monster.
Trade the traditional hostess resume objective for a more modern qualifications summary (shown below as three bullet points beneath the contact information) that calls out your strengths on the job. Furthermore, writing a great resume requires you to look for clues in the form of keywords. Pay attention to the job ads and see what stands out.
For example, if the job ad mentions that the position is for a host with a "can-do" attitude in a "high-volume restaurant," be sure to use those phrases in your resume. You'll see how we incorporated them into the hostess resume below. This can help show the hiring manager that you're the right fit for the job.
Hostess Resume
Blaine Smith
Sometown, CA 94016 * 555.555.5555 * [email protected] * linkedin.com/bsmith
---
Experienced Restaurant Hostess
---
Personable, energetic, and reliable hospitality professional with a history of exemplary-rated performance as a hostess for popular, high-volume restaurants.
Friendly and upbeat in all guest interactions. Diplomatic in handling sensitive situations and efficient in managing smooth front-of-house operations.
Valued for work ethic and "can-do" attitude—cheerfully pitch in where needed to deliver a premium guest experience.
---
Hostess Skills
---
̶ Customer Service

̶ Cleanliness and Sanitation

̶ Customer Communications

̶ Front-of-House Operations

̶ Sales and Menu Upselling

̶ Diplomatic Complaint Handling

̶ Reservation Management

̶ Table Turnover Management

̶ POS Register Systems
---
Experience
---
ABC Restaurant — Sometown, CA
Casual dining restaurant serving lunch and dinner.
Hostess, 5/20XX to 7/20XX (furloughed due to COVID-19)
Greeted customers warmly; provided accurate wait-time estimates during peak dining periods; seated guests; and explained daily menu specials. Booked reservations for private functions and assisted with opening and closing procedures. Key Accomplishments:
Ensured patrons felt valued from the moment they arrived until their departure. Offered guests a friendly greeting immediately upon entering and sincere thanks when leaving.
Praised by manager for excellent customer service skills; on-time record; and willingness to assist bussers, servers, and bar staff during busy shifts.
Focused on cleanliness at all times, regularly cleaning and sanitizing guest touchpoints.
XYZ Restaurant — Sometown, CA
Busy oceanside bistro offering casual fine dining in a relaxed atmosphere.
Hostess, 6/20XX to 5/20XX
Booked reservations, welcomed guests, assisted with F&B service, processed payments, and inquired about guests' dining experience upon their departure. Key Accomplishments:
Kept waitlist updated and consistently communicated accurate seating times to guests.
Helped accelerate table turnover for breakfast, lunch, and brunch service from an average of one hour to 45 minutes by stepping in to expedite food & beverage service and checkout.
Maintained an efficient, organized front-of-house environment. Rotated seating between different restaurant stations to create even workloads for waitstaff.
---
Education
---
DEF High School — Sometown, CA
Academic Diploma, 6/20XX
Make it easier on yourself by downloading the hostess resume template in Word and writing at your own pace.
Monster data shows the median hourly wage for hosts/hostesses is $11.40, and can range from $10 to over $14 per hour. The demand for hosts and hostesses is strong in the following metropolitan areas:
Find out what you'd make in your area by using the Monster Salary Tool. Additionally, you can search for all host/hostess jobs on Monster.
A Valuable Tip for Your Hostess Resume
Preparing your resume takes time and patience, and we know it's not exactly something you're eager to do. Want some help? Let the pros at Monster's Resume Writing Service create a resume that's customized to your experience and skills in one of the most bustling industries around. Whether you're looking for a head hostess resume or a hostess resume with no experience, Monster can help you get a seat at the proverbial table.