Home Health Aide Resume Sample – Monster Jobs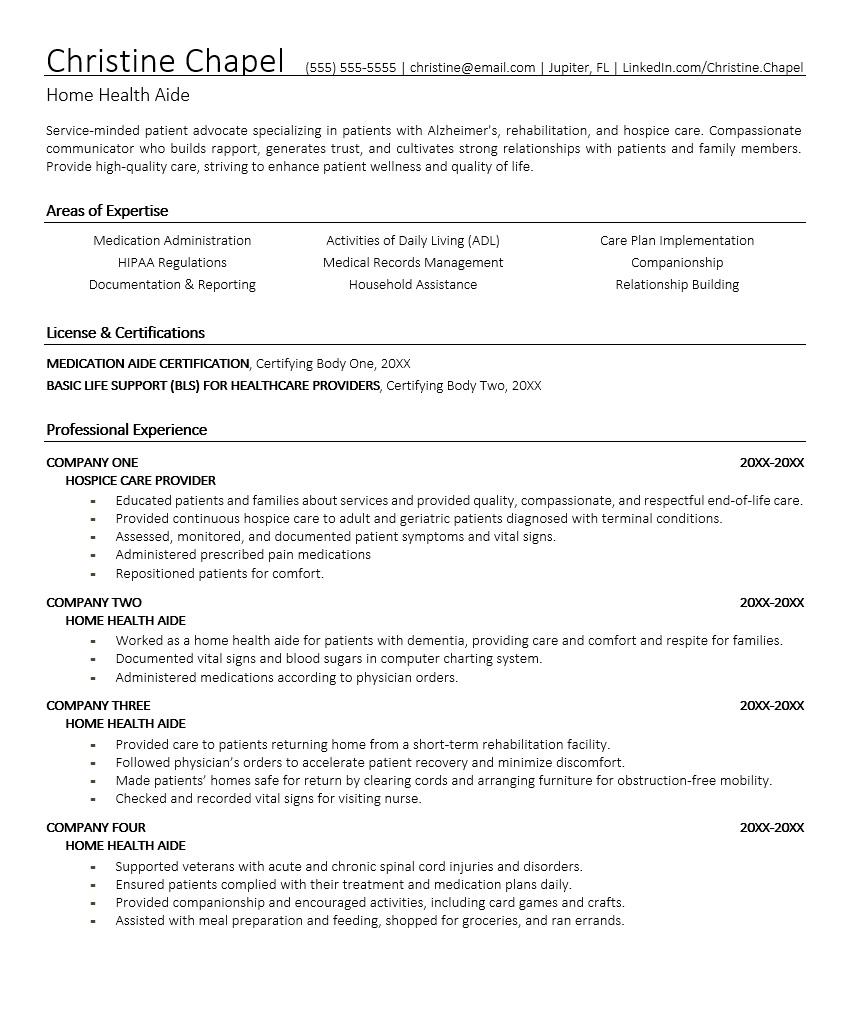 Make sure your resume puts you on pace for a growing career.
When you meet a new patient and their family, you want them to see you are a caring and dedicated home health aide. As with most first impressions, the initial minute or so is crucial. It's the same when you apply for a new job as an aide. From the first few words to the last, an overall scan of your home health aide resume needs to communicate your caring, dedication, and passion for your job. Monster's free sample resume for a home health aide can show you how to write your own.
You might think you need to include a home health aide resume objective. Examples of contemporary resumes, however, replace the traditional objective with a career summary—two or three sentences that let an employer know what makes you so terrific at your job.
Are you questioning what are the top home health aide skills for a resume? One of the best ways to find that out is to carefully read through the job ad you're considering. In it, an employer will include the skills they're looking for—the ones mentioned toward the top of the list are usually the most critical. Include these valuable keywords in your home health aide resume.
It's also important to have a clean and well-formatted resume. A resume without embellishments like italics, bold type, and underlines is easy to read. It reflects the attention to detail and organizational skills that are so important for a home health aide.
Home Health Aide Resume
Christine Chapel
(555) 555-5555 | c[email protected] | Jupiter, FL | LinkedIn.com/Christine.Chapel
---
Home Health Aide
Service-minded patient advocate specializing in patients with Alzheimer's, rehabilitation, and hospice care. Compassionate communicator who builds rapport, generates trust, and cultivates strong relationships with patients and family members. Provide high-quality care, striving to enhance patient wellness and quality of life.
Areas of Expertise
---
Medication Administration | Activities of Daily Living (ADL) | Care Plan Implementation
HIPAA Regulations | Medical Records Management | Companionship
Documentation & Reporting | Household Assistance | Relationship Building
License & Certifications
---
MEDICATION AIDE CERTIFICATION, Certifying Body One, 20XX
BASIC LIFE SUPPORT (BLS) FOR HEALTHCARE PROVIDERS, Certifying Body Two, 20XX
Professional Experience
---
COMPANY ONE | 20XX-20XX
HOSPICE CARE PROVIDER
Educated patients and families about services and provided quality, compassionate, and respectful end-of-life care.
Provided continuous hospice care to adult and geriatric patients diagnosed with terminal conditions.
Assessed, monitored, and documented patient symptoms and vital signs.
Administered prescribed pain medications
Repositioned patients for comfort.
COMPANY TWO | 20XX-20XX
HOME HEALTH AIDE
Worked as a home health aide for patients with dementia, providing care and comfort and respite for families.
Documented vital signs and blood sugars in computer charting system.
Administered medications according to physician orders.
COMPANY THREE | 20XX-20XX
HOME HEALTH AIDE
Provided care to patients returning home from a short-term rehabilitation facility.
Followed physician's orders to accelerate patient recovery and minimize discomfort.
Made patients' homes safe for return by clearing cords and arranging furniture for obstruction-free mobility.
Checked and recorded vital signs for visiting nurse.
COMPANY FOUR | 20XX-20XX
HOME HEALTH AIDE
Supported veterans with acute and chronic spinal cord injuries and disorders.
Ensured patients complied with their treatment and medication plans daily.
Provided companionship and encouraged activities, including card games and crafts.
Assisted with meal preparation and feeding, shopped for groceries, and ran errands.
Want to download this template? You can get this home health aide resume template in Word.
According to the Bureau of Labor Statistics, the number of jobs for home health aides is expected to grow by an astounding 33% over the next decade. The need for home health aides is already high, but the aging Baby Boomer generation will mean lots of opportunities for home health aides over the next 10 years.
Monster research shows that the median income for a home health aide is $12.95 per hour and can range from $10.87 to $16.93. The pay you can expect is based on a combination of job title and location. Monster's Salary Tool lets you look up the pay range based on those conditions for home health aides in your city.
Although home health aide jobs are plentiful, there are some areas with especially high demand for experienced HHAs:
By searching for all home health aide jobs on Monster, you can look for positions around the country that may be a great fit.
Monster Can Help Your Home Health Aide Resume Make a Great Impression
Writing an effective resume takes care and patience. Our professional resume writers are here to take care of your job search, assisting you with creating an effective home health aide resume with a clean format, targeted keywords, and a well-written professional summary. Contact Monster Resume Services to connect with a Certified Resume Writer familiar with the healthcare industry to get started today.