Finance Manager Resume | Monster.com – Monster Jobs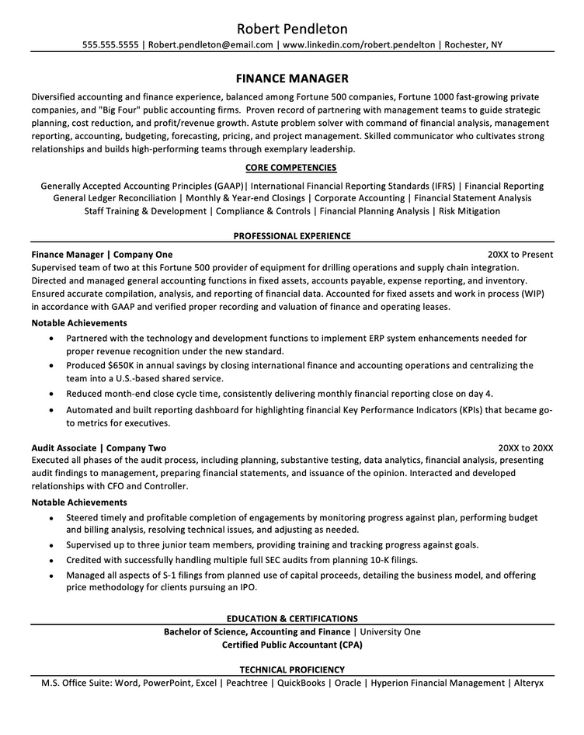 Quantify your achievements to put more punch in your resume.
If you're in the market for a new job, don't overlook your resume as small change. A well-written finance manager resume is a key to cashing in on job opportunities. All puns aside, what should you include in your resume, and how should it look? There are some tried-and-true best practices that add up to job-hunting success (sorry, I couldn't help myself). Consider these points while creating your resume.
As someone who works with numbers, you know their importance. Use numbers, metrics, and statistics to quantify your achievements. Instead of talking about what you've done, provide numbers that show the impact your actions have made. For example, you could include dollar amounts, numbers of direct reports, frequency of actions, and percentages.
You also need to bring words into the picture to show the hiring manager you're a good match. Look at the job ad, and use the words you find there. Words that match up between your resume and the job ad help your resume make it through automated resume software as well.
Finance Manager Resume
Robert Pendleton
555.555.5555 | [email protected] | www.linkedin.com/robert.pendelton | Rochester, NY
---
FINANCE MANAGER
Diversified accounting and finance experience, balanced among Fortune 500 companies, Fortune 1000 fast-growing private companies, and "Big Four" public accounting firms. Proven record of partnering with management teams to guide strategic planning, cost reduction, and profit/revenue growth. Astute problem solver with command of financial analysis, management reporting, accounting, budgeting, forecasting, pricing, and project management. Skilled communicator who cultivates strong relationships and builds high-performing teams through exemplary leadership.
CORE COMPETENCIES
Generally Accepted Accounting Principles (GAAP)| International Financial Reporting Standards (IFRS) | Financial Reporting
General Ledger Reconciliation | Monthly & Year-end Closings | Corporate Accounting | Financial Statement Analysis
Staff Training & Development | Compliance & Controls | Financial Planning Analysis | Risk Mitigation
PROFESSIONAL EXPERIENCE
---
Finance Manager | Company One
20XX to Present
Supervised team of two at this Fortune 500 provider of equipment for drilling operations and supply chain integration. Directed and managed general accounting functions in fixed assets, accounts payable, expense reporting, and inventory. Ensured accurate compilation, analysis, and reporting of financial data. Accounted for fixed assets and work in process (WIP) in accordance with GAAP and verified proper recording and valuation of finance and operating leases.
Notable Achievements
Partnered with the technology and development functions to implement ERP system enhancements needed for proper revenue recognition under the new standard.
Produced $650K in annual savings by closing international finance and accounting operations and centralizing the team into a U.S.-based shared service.
Reduced month-end close cycle time, consistently delivering monthly financial reporting close on day 4.
Automated and built reporting dashboard for highlighting financial Key Performance Indicators (KPIs) that became go-to metrics for executives.
Audit Associate | Company Two
20XX to 20XX
Executed all phases of the audit process, including planning, substantive testing, data analytics, financial analysis, presenting audit findings to management, preparing financial statements, and issuance of the opinion. Interacted and developed relationships with CFO and Controller.
Notable Achievements
Steered timely and profitable completion of engagements by monitoring progress against plan, performing budget and billing analysis, resolving technical issues, and adjusting as needed.
Supervised up to three junior team members, providing training and tracking progress against goals.
Credited with successfully handling multiple full SEC audits from planning 10-K filings.
Managed all aspects of S-1 filings from planned use of capital proceeds, detailing the business model, and offering price methodology for clients pursuing an IPO.
EDUCATION & CERTIFICATIONS
---
Bachelor of Science, Accounting and Finance | University One
Certified Public Accountant (CPA)
TECHNICAL PROFICIENCY
---
M.S. Office Suite: Word, PowerPoint, Excel | Peachtree | QuickBooks | Oracle | Hyperion Financial Management | Alteryx
You can also download this finance manager resume in Word.
The Bureau of Labor Statistics projects employment of finance managers to increase 17 percent over the next 10 years. Finance specialties of cash management and risk management are expected to lead this demand.
Monster research shows the median salary for a finance manager is $93,166. Your salary may be higher or lower depending on your location and experience. Use Monster's Salary Tool to see what the estimated salary is for a finance manager in your city.
Areas where finance managers are in the highest demand are:
You can also search Monster for all finance manager jobs to cash in on opportunities nationwide.
Take Monster's Finance Manager Resume Advice Into Account for a Big Payout
Give yourself credit for the work you've done on your finance manager resume. If you need a bit of help summing it up, call on Monster Resume Services. A professional resume writer familiar with finance will help you with words and numbers to make your resume one for the books.