Driver Resume Sample – Monster Jobs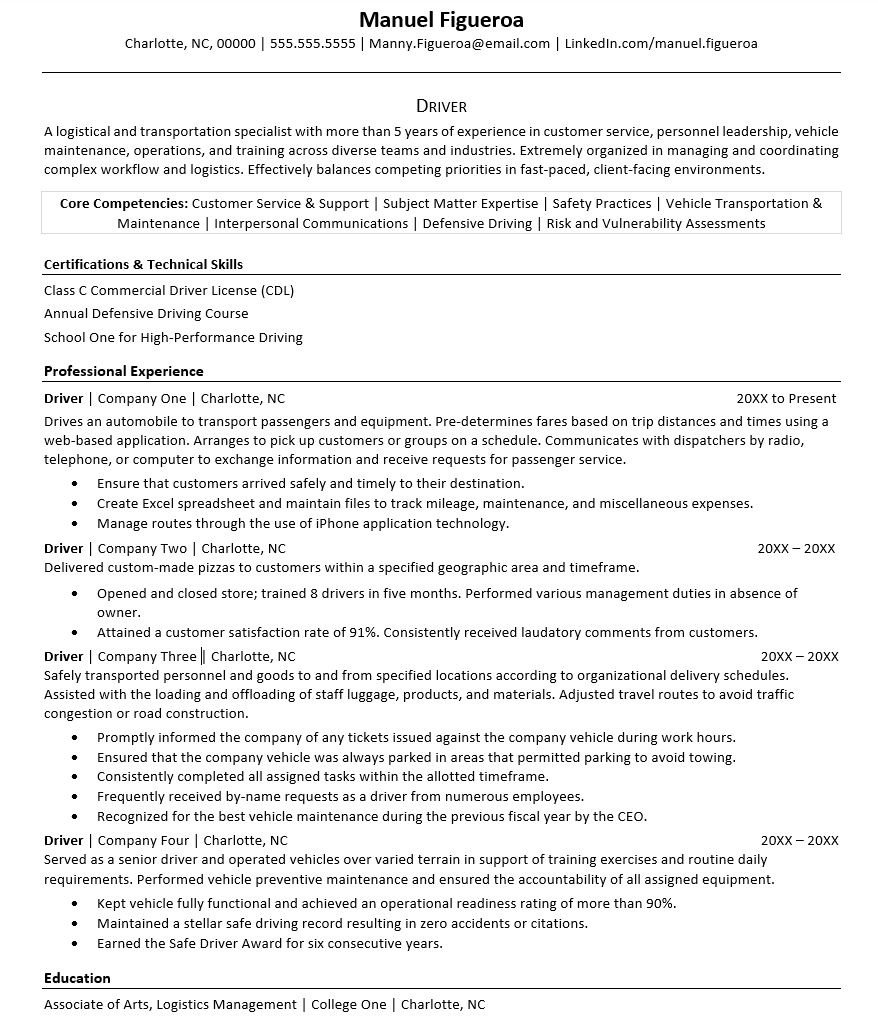 Get on the road to your next job with our easy-to-follow resume template.
As a driver, you're an expert at transporting people and things from point A to point B. But writing a compelling driver resume may leave you stuck in the breakdown lane. Let's get you on the road to a job interview. Shift your gears into park and take the time to develop the perfect resume before applying for driver jobs. Monster offers a comprehensive template that can help you along the way.
Put yourself in a hiring manager's shoes. Employers don't look for just anyone to take the wheel when selecting drivers. They look for candidates who are reliable, safe, and possess good communication skills. Not sure how to convey your qualifications on your driver resume? Here are some things to include when getting started:
Driving credentials such as a commercial driver license (CDL) or taxi or livery license.
Defensive driving courses you've taken.
Notable accomplishments from prior driver positions you've held.
Have a look at our driver resume example below to see how you can add these highlights.
Driver Resume
Manuel Figueroa
Charlotte, NC, 00000 | 555.555.5555 | [email protected] | LinkedIn.com/manuel.figueroa
Driver
A logistical and transportation specialist with more than 5 years of experience in customer service, personnel leadership, vehicle maintenance, operations, and training across diverse teams and industries. Extremely organized in managing and coordinating complex workflow and logistics. Effectively balances competing priorities in fast-paced, client-facing environments.
Core Competencies: Customer Service & Support | Subject Matter Expertise | Safety Practices | Vehicle Transportation & Maintenance | Interpersonal Communications | Defensive Driving | Risk and Vulnerability Assessments
Certifications & Technical Skills
Class C Commercial Driver License (CDL)
Annual Defensive Driving Course
School One for High-Performance Driving
Professional Experience
Driver | Company One | Charlotte, NC 20XX to Present
Drives an automobile to transport passengers and equipment. Pre-determines fares based on trip distances and times using a web-based application. Arranges to pick up customers or groups on a schedule. Communicates with dispatchers by radio, telephone, or computer to exchange information and receive requests for passenger service.
Ensure that customers arrived safely and timely to their destination.
Create Excel spreadsheet and maintain files to track mileage, maintenance, and miscellaneous expenses.
Manage routes through the use of iPhone application technology.
Driver | Company Two | Charlotte, NC 20XX – 20XX
Delivered custom-made pizzas to customers within a specified geographic area and timeframe.
Opened and closed store; trained 8 drivers in five months. Performed various management duties in absence of owner.
Attained a customer satisfaction rate of 91%. Consistently received laudatory comments from customers.
Driver | Company Three | Charlotte, NC 20XX – 20XX
Safely transported personnel and goods to and from specified locations according to organizational delivery schedules. Assisted with the loading and offloading of staff luggage, products, and materials. Adjusted travel routes to avoid traffic congestion or road construction.
Promptly informed the company of any tickets issued against the company vehicle during work hours.
Ensured that the company vehicle was always parked in areas that permitted parking to avoid towing.
Consistently completed all assigned tasks within the allotted timeframe.
Frequently received by-name requests as a driver from numerous employees.
Recognized for the best vehicle maintenance during the previous fiscal year by the CEO.
Driver | Company Four | Charlotte, NC 20XX – 20XX
Served as a senior driver and operated vehicles over varied terrain in support of training exercises and routine daily requirements. Performed vehicle preventive maintenance and ensured the accountability of all assigned equipment.
Kept vehicle fully functional and achieved an operational readiness rating of more than 90%.
Maintained a stellar safe driving record resulting in zero accidents or citations.
Earned the Safe Driver Award for six consecutive years.
Education
Associate of Arts, Logistics Management | College One | Charlotte, NC
Start the ignition on your job search by downloading this driver resume template in Word.
Want to know how much you can earn as a driver? It typically depends on what type of driving job you're applying for. For example, van, taxi, and shuttle drivers typically make a median of $11.31 to $19.01 per hour. Restaurant delivery drivers earn a median yearly salary of $29,886, while tractor-trailer truck drivers make a median of $46,708. Your location and your experience level will also influence your pay. Find out for yourself by searching your job title and location in Monster's Salary Calculator.
Look for specific transportation jobs? Check out these popular ones on Monster:
Let Monster's Resume Service Drive Your Success
We hope that our driver resume will help steer you into a new job. But before you apply, make sure the final version of your resume is packaged to perfection and ready to deliver. The resume professionals at Monster will help you reach your destination by outlining your credentials and professional driving background. Plus, we'll kick your resume into high gear with attention-grabbing keywords.