Controller Resume Sample | Monster.com – Monster Jobs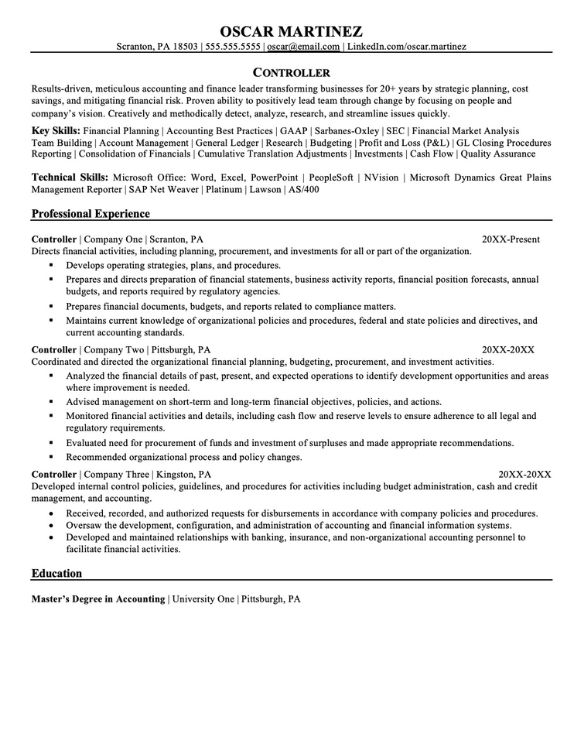 Add all the right information to your resume for the best results in your job hunt.
There is no magic number that tells you how many times you have to send out your controller resume before a recruiter calls, you get an invitation to interview, or you receive a job offer. Just like in finance, the key to an effective job hunt is quality and strategy. And your most important tool when looking for a new job is your resume. So what's the strategy for getting the most from it?
When sending out a resume, your first priority is to make sure it gets read. ATS (applicant tracking system) software weeds out less desirable resumes and flags the standouts by looking for keywords. There's no secret to figuring out the keywords—they're in the job ad. Use those words in your resume exactly as they appear in the ad in your career summary, skills sections, and professional experience.
Take a look at this sample controller resume to see how it's done.
Controller Resume
OSCAR MARTINEZ
Scranton, PA 18503 | 555.555.5555 | [email protected] | LinkedIn.com/oscar.martinez
---
Controller
Results-driven, meticulous accounting and finance leader transforming businesses for 20+ years by strategic planning, cost savings, and mitigating financial risk. Proven ability to positively lead team through change by focusing on people and company's vision. Creatively and methodically detect, analyze, research, and streamline issues quickly.
Key Skills:
Financial Planning | Accounting Best Practices | GAAP | Sarbanes-Oxley | SEC | Financial Market Analysis
Team Building | Account Management | General Ledger | Research | Budgeting | Profit and Loss (P&L) | GL Closing Procedures Reporting
Consolidation of Financials | Cumulative Translation Adjustments | Investments | Cash Flow | Quality Assurance
Technical Skills: Microsoft Office: Word, Excel, PowerPoint | PeopleSoft | NVision | Microsoft Dynamics Great Plains Management Reporter | SAP Net Weaver | Platinum | Lawson | AS/400
Professional Experience
---
Controller | Company One | Scranton, PA | 20XX-Present
Directs financial activities, including planning, procurement, and investments for all or part of the organization.
Develops operating strategies, plans, and procedures.
Prepares and directs preparation of financial statements, business activity reports, financial position forecasts, annual budgets, and reports required by regulatory agencies.
Prepares financial documents, budgets, and reports related to compliance matters.
Maintains current knowledge of organizational policies and procedures, federal and state policies and directives, and current accounting standards.
Controller | Company Two | Pittsburgh, PA | 20XX-20XX
Coordinated and directed the organizational financial planning, budgeting, procurement, and investment activities.
Analyzed the financial details of past, present, and expected operations to identify development opportunities and areas where improvement is needed.
Advised management on short-term and long-term financial objectives, policies, and actions.
Monitored financial activities and details, including cash flow and reserve levels to ensure adherence to all legal and regulatory requirements.
Evaluated need for procurement of funds and investment of surpluses and made appropriate recommendations.
Recommended organizational process and policy changes.
Controller | Company Three | Kingston, PA | 20XX-20XX
Developed internal control policies, guidelines, and procedures for activities including budget administration, cash and credit management, and accounting.
Received, recorded, and authorized requests for disbursements in accordance with company policies and procedures.
Oversaw the development, configuration, and administration of accounting and financial information systems.
Developed and maintained relationships with banking, insurance, and non-organizational accounting personnel to facilitate financial activities.
Education
---
Master's Degree in Accounting | University One | Pittsburgh, PA
Once you're ready to get started, you can download this sample controller resume in Word.
There's good news for anyone in the finance industry. According to the Bureau of Labor Statistics, employment is projected to grow 17% over the next 10 years. This is much faster than other occupations.
Monster research shows the estimated salary for a controller is $91,309. Salaries for this job range from a low of $63,680 to a high of $110,145. To get a closer idea of what you might make as a controller in your area, you can look up a controller's estimated pay in your location using Monster's Salary Tool.
The areas with the highest demand for controllers are:
You can also take a look at all controller jobs on Monster (also classified as comptroller jobs) to see what's available nationwide.
You + Monster Add Up to an Effective Controller Resume
If you've given it a try but would still like help with your controller resume, you can count on Monster Resume Services to help you out. A professional resume writer specializing in the financial industry will make your resume ATS-friendly and write you a personalized professional summary that equals success.