Cleaner Resume Sample | Monster.com – Monster Jobs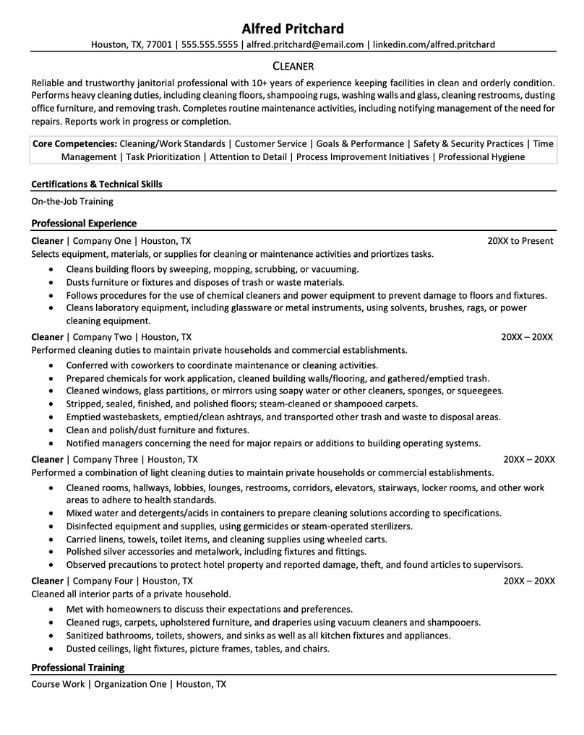 As a cleaner, you know how to make a room spotless. Now, apply that same approach to creating your cleaner resume—make it squeaky clean and well put-together. But even if you've got the formatting down, it can be hard to know what to put on your cleaner resume. Don't worry—Monster can show you exactly what to add to show that you have the skills and qualifications for the job you've been eyeing.
Your resume should always start with your name, city, and contact information. Then, write a career summary. Just think about what employers are looking for in a competent cleaner and summarize it in a brief paragraph. For example, include how many years you've been a cleaner, what tasks you excel in, and the personal qualities that make you an excellent candidate. After that, provide a list of core competencies, such as cleaning and safety skills, soft skills, and work standards.
In your work history section, provide examples of duties you performed, training you received, and how you applied your skills in previous jobs. Also, mention what type of building you worked in—was it a private residence or a commercial building?
Ready to get started? See Monster's cleaner resume sample below to learn how to create a polished resume.
Cleaner Resume
Alfred Pritchard
Houston, TX, 77001 | 555.555.5555 | [email protected] | linkedin.com/alfred.pritchard
Cleaner
Reliable and trustworthy janitorial professional with 10+ years of experience keeping facilities in clean and orderly condition. Performs heavy cleaning duties, including cleaning floors, shampooing rugs, washing walls and glass, cleaning restrooms, dusting office furniture, and removing trash. Completes routine maintenance activities, including notifying management of the need for repairs. Reports work in progress or completion.
Core Competencies: Cleaning/Work Standards | Customer Service | Goals & Performance | Safety & Security Practices | Time Management | Task Prioritization | Attention to Detail | Process Improvement Initiatives | Professional Hygiene
Certifications & Technical Skills
On-the-Job Training
Professional Experience
Cleaner | Company One | Houston, TX | 20XX to Present
Selects equipment, materials, or supplies for cleaning or maintenance activities and priortizes tasks.
Cleans building floors by sweeping, mopping, scrubbing, or vacuuming.
Dusts furniture or fixtures and disposes of trash or waste materials.
Follows procedures for the use of chemical cleaners and power equipment to prevent damage to floors and fixtures.
Cleans laboratory equipment, including glassware or metal instruments, using solvents, brushes, rags, or power cleaning equipment.
Cleaner | Company Two | Houston, TX | 20XX – 20XX
Performed cleaning duties to maintain private households and commercial establishments.
Conferred with coworkers to coordinate maintenance or cleaning activities.
Prepared chemicals for work application, cleaned building walls/flooring, and gathered/emptied trash.
Cleaned windows, glass partitions, or mirrors using soapy water or other cleaners, sponges, or squeegees.
Stripped, sealed, finished, and polished floors; steam-cleaned or shampooed carpets.
Emptied wastebaskets, emptied/clean ashtrays, and transported other trash and waste to disposal areas.
Clean and polish/dust furniture and fixtures.
Notified managers concerning the need for major repairs or additions to building operating systems.
Cleaner | Company Three | Houston, TX | 20XX – 20XX
Performed a combination of light cleaning duties to maintain private households or commercial establishments.
Cleaned rooms, hallways, lobbies, lounges, restrooms, corridors, elevators, stairways, locker rooms, and other work areas to adhere to health standards.
Mixed water and detergents/acids in containers to prepare cleaning solutions according to specifications.
Disinfected equipment and supplies, using germicides or steam-operated sterilizers.
Carried linens, towels, toilet items, and cleaning supplies using wheeled carts.
Polished silver accessories and metalwork, including fixtures and fittings.
Observed precautions to protect hotel property and reported damage, theft, and found articles to supervisors.
Cleaner | Company Four | Houston, TX | 20XX – 20XX
Cleaned all interior parts of a private household.
Met with homeowners to discuss their expectations and preferences.
Cleaned rugs, carpets, upholstered furniture, and draperies using vacuum cleaners and shampooers.
Sanitized bathrooms, toilets, showers, and sinks as well as all kitchen fixtures and appliances.
Dusted ceilings, light fixtures, picture frames, tables, and chairs.
Professional Training
Course Work | Organization One | Houston, TX
You can download this cleaner resume sample here.
According to Monster's salary data, cleaners typically make between $10.58 and $15.64 per hour. But your level of experience and location will also determine how much you'll get paid as a cleaner. Try looking up your job title and location on Monster's Salary Calculator for a more accurate estimate.
Want to know where cleaners are in the highest demand? Check out job listings in these top five cities:
Plus, Monster has tons of other cleaning jobs posted across the U.S. as well.
Let Monster Make Your Resume Shine
Once you've completed the first draft of your cleaner resume, send it to the experts at Monster. We'll dust off your resume and scrub it clean of errors. Plus, we'll make it shine with relevant keywords that can connect you with job recruiters online. Think of us as your own personal career cleaning service!