Business Development Resume | Monster.com – Monster Jobs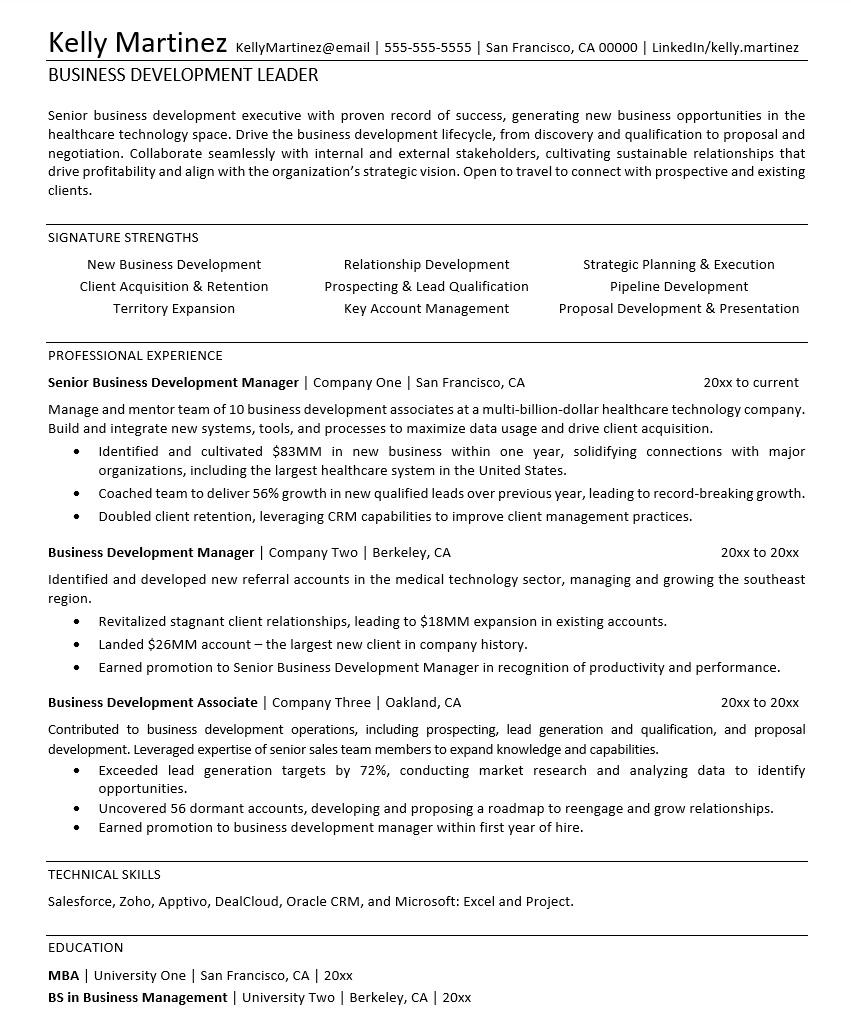 Monster provides a resume example that can help you build your success in business development.
You've got a good head for business—you're skilled at expanding opportunities, increasing and forecasting revenue, and establishing client relationships. To grow your career in this field, it's critical that you put together a business development resume that demonstrates those competencies to potential employers. Need some tips to help you get started? This easy-to-follow resume for a business development executive can guide you from start to finish.
When writing your resume, your business acumen will come in handy. Think of your resume as a proposal to a client—you need to persuade employers that you'll provide an ROI that's worth their time and energy. To that end, when you're looking for business development resume skills to feature, be sure your excellent communication, organization, interpersonal, problem-solving, and analytical skills are apparent.
Here's a tip: Use numbers to quantify your successful track record. That holds true whether you're an industry veteran or whether you're looking for a business development resume for freshers. As you well know, nobody can argue with data.
Monster's business development resume sample will show you how to emphasize the key strengths and accomplishments employers look for.
Business Development Resume
Kelly Martinez
KellyMartinez@email | 555-555-5555 | San Francisco, CA 00000 | LinkedIn.com/kelly.martinez
BUSINESS DEVELOPMENT LEADER
Senior business development executive with proven record of success, generating new business opportunities in the healthcare technology space. Drive the business development lifecycle, from discovery and qualification to proposal and negotiation. Collaborate seamlessly with internal and external stakeholders, cultivating sustainable relationships that drive profitability and align with the organization's strategic vision. Open to travel to connect with prospective and existing clients.
SIGNATURE STRENGTHS
New Business Development | Relationship Development | Strategic Planning & Execution
Client Acquisition & Retention | Prospecting & Lead Qualification | Pipeline Development
Territory Expansion | Key Account Management | Proposal Development & Presentation
PROFESSIONAL EXPERIENCE
Senior Business Development Manager | Company One | San Francisco, CA | 20xx to current
Manage and mentor team of 10 business development associates at a multi-billion-dollar healthcare technology company. Build and integrate new systems, tools, and processes to maximize data usage and drive client acquisition.
Identified and cultivated $83MM in new business within one year, solidifying connections with major organizations, including the largest healthcare system in the United States.
Coached team to deliver 56% growth in new qualified leads over previous year, leading to record-breaking growth.
Doubled client retention, leveraging CRM capabilities to improve client management practices.
Business Development Manager | Company Two | Berkeley, CA | 20xx to 20xx
Identified and developed new referral accounts in the medical technology sector, managing and growing the southeast region.
Revitalized stagnant client relationships, leading to $18MM expansion in existing accounts.
Landed $26MM account – the largest new client in company history.
Earned promotion to Senior Business Development Manager in recognition of productivity and performance.
Business Development Associate | Company Three | Oakland, CA | 20xx to 20xx
Contributed to business development operations, including prospecting, lead generation and qualification, and proposal development. Leveraged expertise of senior sales team members to expand knowledge and capabilities.
Exceeded lead generation targets by 72%, conducting market research and analyzing data to identify opportunities.
Uncovered 56 dormant accounts, developing and proposing a roadmap to reengage and grow relationships.
Earned promotion to business development manager within first year of hire.
TECHNICAL SKILLS
Salesforce, Zoho, Apptivo, DealCloud, Oracle CRM, and Microsoft: Excel and Project.
EDUCATION
MBA | University One | San Francisco, CA | 20xx
BS in Business Management | University Two | Berkeley, CA | 20xx
You can download this business development resume template in Word to get started.
Interested in learning how much you can make in business development? According to Monster's salary data, business development managers typically earn $81,140 per year. If you have less experience, you may earn closer to $60,000, while more experienced candidates can make around $110,000 a year. Pay also varies by location. Find out more by searching your job title and city on Monster's Salary Calculator.
Ready to begin your journey to a new job? Search for business jobs on Monster to find a position that's a good fit for you. Keep in mind that business development managers are in high demand in the following U.S. metro areas:
Grow Your Career With a Powerful Business Development Resume
Working in business development can be all-consuming. If you're tight on time, leave your resume to the professionals at Monster. Our resume writing service can develop a powerful, polished resume that's customized to your career goals and includes the right business development resume keywords to catch the eye of potential employers.