Baker Resume Sample | Monster.com – Monster Jobs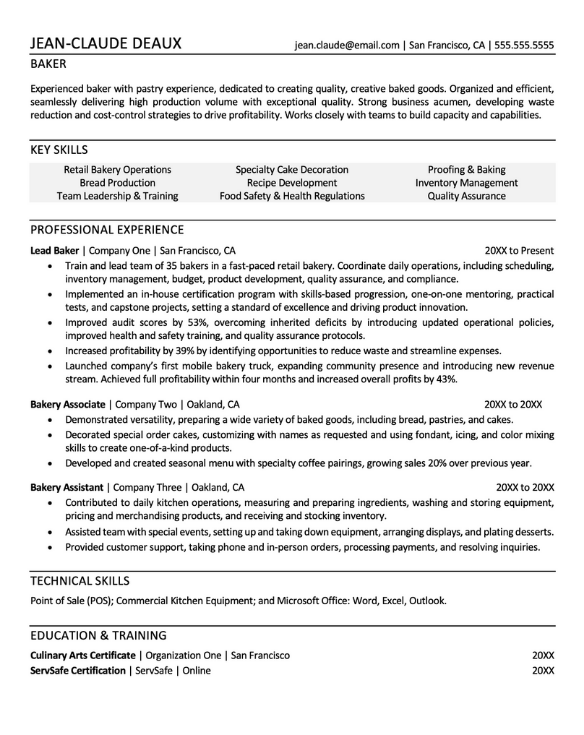 The right ingredients plus a polished presentation will give your resume an edge.
Why do bakers look for new jobs? Because they want to make more dough. Whatever your reason for changing jobs, it's no joke that you'll need a well-crafted baker resume to make the best impression on a prospective employer. What do the best baker resumes include? No jokes about ingredients here, just some good advice.
As a baker, you know presentation is important. As an applicant for a new job, it's essential that you present the right skills for the job you're applying for. You may have some skills or experiences the job ad doesn't mention. In that case, study the ad and emphasize the skills listed. An ideal place to put those matching keywords is in your career summary at the top of your baker resume. Your summary is a concise paragraph that gives a snapshot of who you are and what you can do for your next employer. Using these targeted keywords will make you a good match for the job, whether your resume is being evaluated by a human or a software program sifting through applications.
Baker Resume
JEAN-CLAUDE DEAUX
[email protected] | San Francisco, CA | 555.555.5555
---
BAKER
Experienced baker with pastry experience, dedicated to creating quality, creative baked goods. Organized and efficient, seamlessly delivering high production volume with exceptional quality. Strong business acumen, developing waste reduction and cost-control strategies to drive profitability. Works closely with teams to build capacity and capabilities.
---
KEY SKILLS
Retail Bakery Operations Specialty Cake Decoration Proofing & Baking
Bread Production Recipe Development Inventory Management
Team Leadership & Training Food Safety & Health Regulations Quality Assurance
---
PROFESSIONAL EXPERIENCE
Lead Baker | Company One | San Francisco, CA | 20XX to Present
Train and lead team of 35 bakers in a fast-paced retail bakery. Coordinate daily operations, including scheduling, inventory management, budget, product development, quality assurance, and compliance.
Implemented an in-house certification program with skills-based progression, one-on-one mentoring, practical tests, and capstone projects, setting a standard of excellence and driving product innovation.
Improved audit scores by 53%, overcoming inherited deficits by introducing updated operational policies, improved health and safety training, and quality assurance protocols.
Increased profitability by 39% by identifying opportunities to reduce waste and streamline expenses.
Launched company's first mobile bakery truck, expanding community presence and introducing new revenue stream. Achieved full profitability within four months and increased overall profits by 43%.
Bakery Associate | Company Two | Oakland, CA | 20XX to 20XX
Demonstrated versatility, preparing a wide variety of baked goods, including bread, pastries, and cakes.
Decorated special order cakes, customizing with names as requested and using fondant, icing, and color mixing skills to create one-of-a-kind products.
Developed and created seasonal menu with specialty coffee pairings, growing sales 20% over previous year.
Bakery Assistant | Company Three | Oakland, CA | 20XX to 20XX
Contributed to daily kitchen operations, measuring and preparing ingredients, washing and storing equipment, pricing and merchandising products, and receiving and stocking inventory.
Assisted team with special events, setting up and taking down equipment, arranging displays, and plating desserts.
Provided customer support, taking phone and in-person orders, processing payments, and resolving inquiries.
---
TECHNICAL SKILLS
Point of Sale (POS); Commercial Kitchen Equipment; and Microsoft Office: Word, Excel, Outlook.
---
EDUCATION & TRAINING
Culinary Arts Certificate | Organization One | San Francisco 20XX
ServSafe Certification | ServSafe | Online 20XX
Whip up your own resume by downloading this baker resume sample in Word.
According to Monster research, the median income for a baker is $12.73 per hour. But that figure may be higher or lower based on your experience and where the job is located. Would you like to know what you might get paid as a baker? Enter your location into Monster's Salary Tool to look up the pay range for a baker in your city.
Then, you can look for jobs in these areas with the highest demand for bakers:
Or you can also take a look at all the bakery jobs on Monster to see what's cooking in other parts of the country.
Monster Can Help You Mix Up Your Baker Resume
After following our recipe (sorry, I had to do it) for a baker resume, you may feel you still need some help creating a document that will attract more interview invitations. If so, professional resume writers familiar with the baking industry are standing by to assist you. Call on Monster Resume Services to assure you have a top-notch professional summary, frame your achievements in the best possible way, and use the right keywords. With a bit of help from Monster, your resume can rise to the top.