Athlete Resume Sample | Monster.com – Monster Jobs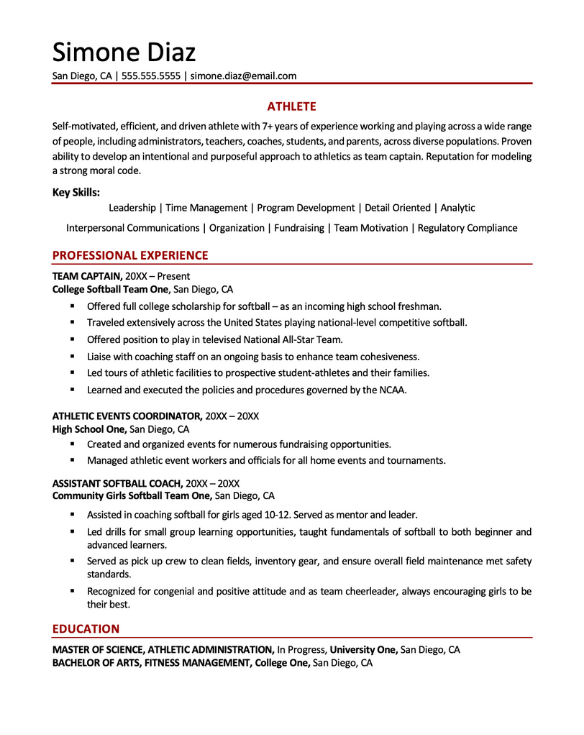 Monster's resume experts can coach you through your first draft to the final version of your resume.
Athletes understand the qualities that lead to victory: determination, a winning strategy, and talent. Those same qualities must be present in your athlete resume, so employers know that you have your eye on the ball. Not sure where to start? Monster can coach you through the steps to create your first draft.
Start by putting your name, contact information, and professional title at the top of your athlete resume. Next, briefly describe your accomplishments and proven skills in a one-paragraph career summary. Then, when listing your key skills, make sure they're relevant to the athlete job you're applying for. To name a few, consider including program development, leadership, and team motivation in your skills section.
Your professional history should highlight the duties you took on at previous jobs. For example, provide details on teams you've managed and events you've coordinated. Lastly, the education section should briefly list colleges or universities you graduated from.
Athlete Resume
Simone Diaz
San Diego, CA | 555.555.5555 | [email protected]
Athlete
Self-motivated, efficient, and driven athlete with 7+ years of experience working and playing across a wide range of people, including administrators, teachers, coaches, students, and parents, across diverse populations. Proven ability to develop an intentional and purposeful approach to athletics as team captain. Reputation for modeling a strong moral code.
Key Skills:
Leadership | Time Management | Program Development | Detail Oriented | Analytic
Interpersonal Communications | Organization | Fundraising | Team Motivation | Regulatory Compliance
PROFESSIONAL EXPERIENCE
Team Captain, 20XX – Present
College Softball Team One, San Diego, CA
Offered full college scholarship for softball – as an incoming high school freshman.
Traveled extensively across the United States playing national-level competitive softball.
Offered position to play in televised National All-Star Team.
Liaise with coaching staff on an ongoing basis to enhance team cohesiveness.
Led tours of athletic facilities to prospective student-athletes and their families.
Learned and executed the policies and procedures governed by the NCAA.
Athletic Events Coordinator, 20XX – 20XX
High School One, San Diego, CA
Created and organized events for numerous fundraising opportunities.
Managed athletic event workers and officials for all home events and tournaments.
Assistant Softball Coach, 20XX – 20XX
Community Girls Softball Team One, San Diego, CA
Assisted in coaching softball for girls aged 10-12. Served as mentor and leader.
Led drills for small group learning opportunities, taught fundamentals of softball to both beginner and advanced learners.
Served as pick up crew to clean fields, inventory gear, and ensure overall field maintenance met safety standards.
Recognized for congenial and positive attitude and as team cheerleader, always encouraging girls to be their best.
EDUCATION
Master of Science, Athletic Administration, In Progress, University One, San Diego, CA
Bachelor of Arts, Fitness Management,College One, San Diego, CA
Ready to apply for jobs? You can start writing your own resume by downloading this athlete resume sample here.
Careers for athletes and sports competitors are expected to increase by 38% over the next 10 years, according to the Bureau of Labor Statistics. The median pay for athletes is more than $50,850 per year. However, athletes' salaries vary widely. Wondering what you might make as a coach or athletic director instead? Try looking up your specific title and location using Monster's Salary Calculator.
When you're ready to start searching for athletic opportunities, check out these five cities where athletes are in demand:
Plus, Monster has plenty of open sports jobs across the U.S.
Get Off the Sidelines With a Home-Run Resume
As an athlete, you've always got your sights set on the goal. When it comes to looking for a new job, make scoring the perfect athlete resume your next goal. Not sure how to knock it out of the park? No problem. Just submit your first draft to Monster's resume experts, and we'll optimize it for you. Your final version will be error-free and powered by the right keywords to make sure your resume gets into the right job recruiters' hands.